Tips on moving abroad.
Hi everyone. How are you? And welcome back to my Real Estate Blog! Today I thought we would touch on something very close to my heart, which is moving abroad. Now, as many of you know I decided to up and leave my lovely home country a couple of years ago, and I was incredibly lucky in the fact that I didn't put too much thought or process into where I was heading and managed to make the most of it, and get a great place to live in an amazing country. I would however recommend that other people put a lot more thought and process into a move as there's so many considerations before heading out
One of the first things you need to do is to decide where you would like to move to. The 5 most common places to move to for an American are Costa Rica, Thailand, Australia, Panama and Mexico. I'm going to look at each place in more detail for you but i recommend buying books on each country to research further, I found some great deals on an
online classified ads site
so has some great second-hand and used books for really cheap.
Mexico
Mexico has been the number 1 place for Americans to relocate to for quite a while. This is because it is an incredibly safe country, with great political stability. It also is incredibly beautiful, with some of the 'best beaches' in the world.

For those wanting to relocate other factors for moving there include the affordability and the high quality of life on a rather low budget. It also offers great transport links, with cheap flights back to the US and to countless destinations across the world.

"If you love color, noise, laughter, history and culture, you'll love Mexico," "After only two years, 76% of expats claim the country feels like home, compared to the 62% global average." according to Business Insider.
Panama
Not quite the number one spot, but a close second is Panama. Known for its excellent quality of life, it is home to many expats, who have reported being happier since moving there. It is also politically stable and incredibly safe, and again is known for it's beautiful beaches and amazing sunshine.

Residency requirements in Panama are relatively easy to meet as it offers a "friendly Nations Visa" for expats and foreigners, including the U.S and U.K.
Australia
Although nearly as far away from America as you can get, Australia is the third most popular destinations for expats wanting to move abroad. It's an easy place for Americans to fit in as the language is the same, although has many colloquial differences, and Aussies are well known for being incredibly friendly and having a great similar culture. Low population levels are another great draw to Americans as well as the high quality of life.

One of the main problems with Australia, however, is the cost of moving there. Real Estate is incredibly expensive and it has a high cost of living, so you should expect to pay the same amount or more for a place in Australia as you would in the U.S.
Thailand
HSBC, a British Bank, recently ranked Thailand as one of best countries for Expats to move to, which when viewing pictures of Thailand you can't fail to see the appeal. The cost of living in general is the lowest so far, and the economic opportunities and quality of life is high.

If you have young children however it might be worth having a doublethink, as not only is it a bit of a culture shock, the schooling is incredibly expensive, and not quite the same level you might be expecting.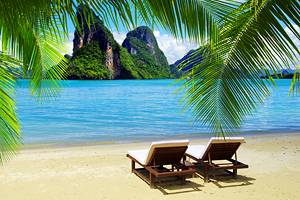 Costa Rica
Costa Rica is one of the more mid-ranged places to move to on our list. It is a politically stable country, but over the past 5 years prices have risen exponentially and in some of the major cities prices are on par with living in a bigger city in the U.S,

Unlike Mexico, Costa Rica doesn't have very good transport links, and this means that flying to and from Costa Rica is a bit of a hassle and it can be tough to find a direct flight.
And an added bonus country: Cambodia.

Not so popular with expts just yet, but on the rise, a great economic opportunity and some of the most beautiful places in the world.


As I said at the beginning prior to moving abroad I think you should put a lot of research into which country and city you want to move to. Another great list to look through is this one by
Lonely Planet
.
Otherwise, If you're looking at moving into you first family home, theres lots of considerations to take into account, so I'd highly recommend this article by my co-author of this blog; http://www.weezim.com/first-family-home.